TAKING THE MICKEY OUT OF CHINA
Roy Lichtenstein swaps 'Whaam' for Zen, sort of, in his Oriental landscapes
Whaam! Few sights in art incite aesthetic delirium in quite the way American pop art painter Roy Lichtenstein's do: big, splashy swipes of upbeat, glossy colour, each canvas a luxuriant close-up, a snazzy-looking snapshot of a more compelling story. Lichtenstein remade the Sunday comic magazine form into a series of glamorous enlargements, eye-popping poster art that shellacked a world of lips, hips, tits, wits, rouge, noir, and no small degree of voyeurism. He took low, high and made art from the cart. But unlike his peer and fellow pop tart Andy Warhol, who was similarly directing the new flow of art traffic, Lichtenstein had the ability to put a smile on your face, sometimes even to make you laugh.

Unexpected and uplifting it is then, to discover Landscapes in the Chinese Style, a series of Lichtenstein's paintings on display at Hong Kong's Gagosian Gallery that, on first impression, look as little like Lichtenstein as it's possible to imagine. From distance, on superficial gaze – often the best way to appreciate Lichtenstein's work - they are seemingly serene, calming and spiritual. But step closer. Zen comes the surprise. Careful scrutiny reveals a mish-mash of mosaic locutions, almost like jigsaw, layered and floating with Benday dots [a technique derived from the name of American printer Benjamin Day in the early 20th century], that reinforces the sense of industrial production. Lichtenstein said the following on the subject of his Chinese landscapes: "I think [the Chinese landscapes] impress people with having somewhat the same kind of mystery [historical] Chinese paintings have, but in my mind it's a sort of pseudo-contemplative or mechanical subtlety … I'm not seriously doing a kind of Zen-like salute to the beauty of nature. It's really supposed to look like a printed version." From Zen to zany, Lichtenstein was the supreme art impersonator who could sample the techniques of masters like Picasso, Cézanne, Mondrian and Léger at will, retooling their specificities as though their canvases were no more than giant moodboards for him to subvert for comic or satiric effect.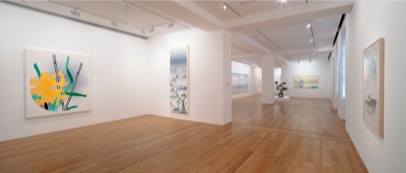 The comic strips [Lichtenstein's fetish for cartoons dissuaded Warhol from pursuing that interest further], advertisements, Greek temples, or avant-garde artwork, all was appropriated in much the same way for his flat, though vivid, view of his art's representation. With Lichtenstein, he, and you were always on the level.

Lichtenstein's fascination for Oriental landscape had come from seeing the monochromatic prints by French artist Edgar Degas in New York's Metropolitan Museum of Art in 1994. Struck by the ease with which Degas could conjure a nebulous landscape with just a few flicks of the brush, Lichtenstein poured over East Asian Art, using it as source material for his own landscapes. Odd yet appealing, highly stylised, sheeny and impersonal to a mystical degree, Lichtenstein again used simulated Benday dots and block contours – though this time in cloud-like, dreamy, abstract patches, along with his typically vivid colours. All trace of the hand was removed and the paintings seem as mechanical as his other work. He can't resist the joke, either. Cliché meister to the last, Lichtenstein invokes American stereotypes of touristic Oriental iconography, such as a crooked bonsai tree [Landscape with Fog, 1996], and a pointed coolie hat [Landscape with Boats, 1995]. In one there's even a bridge that, though evidently an Asian cultural reference – is a direct nod to the Japanese bridge over the lily pond in French impressionist painter Claude Monet's Giverny garden, France. As always, Lichtenstein gets the last laugh.

Stephen Short
"Roy Lichtenstein: Landscapes in the Chinese Style" at Gagosian Gallery Hong Kong. Photography by Martin Wong

— Landscape with Grass, 1996, oil and Magna on canvas, 110 x 38 inches (279.4 x 96.5 cm) © Estate of Roy Lichtenstein
— Flower with Bamboo, 1996, oil and Magna on canvas, 77 x 66 inches (195.6 x 167.6 cm) © Estate of Roy Lichtenstein
— Landscape with Scholar's Rock, 1997, oil and Magna on canvas, 79 x 156 inches (200.7 x 396.2 cm) © Estate of Roy Lichtenstein