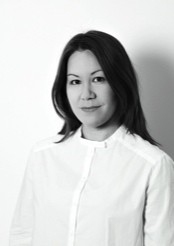 Of COS
'Collection of style' debuts in Hong Kong
Who? Well, that's the point. COS, Collection Of Style, the quiet one, glides under fashion's blare making subtle, stylish items of high-end design whose affordable price point won't ruffle the exchequer. You might know COS's elder sibling, H&M, the loud one, which blurs the line between high and low fashion by plastering billboards the size of tower blocks with posters promoting its big, bigger and bestest designer collaborations. COS is H&M's antidote: offering timeless style versus the instant gratification of fashion's three seconds hence. And it doesn't use pop stars or celebutards as retail bait, preferring instead the loftier and more intellectual realm of industrial design, art, the environment and architecture. Opened in London in 2007, word-of-mouth nurtured and then accelerated COS's reputation as the little label of high style where clothes had life beyond a season. The brand has since grown to more than 50 stores across Europe.

COS marked its arrival in Hong Kong with a preview of its latest collection at newly opened Galerie Perrotin, on Connaught Road in Central. The brand invited local opinion leaders to create one-off art installations for display during the event. ISBN met with brand leader Marie Honda [above] to get better acquainted with COS.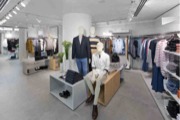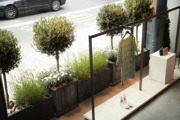 Convey COS in three words or ideas.
The idea behind the brand is of course high quality, high design quality and affordable price. That's the main concept. Quality comes in all the areas we work in; how we design our clothes, how we design our stores. That's more about the actual concept. In three words: modern, functional and timeless …
How many consumers know COS has anything to do with H&M?
It's varied. We never shy away from that fact. We're super proud of it. But, whether or not the customers recognize that depends on how much they want to know or look into the brand.
How many stores do you currently have?
We just opened our 52 in our 12th market, Warsaw in Poland. Other confirmed stores for this year are: Vienna, a concession in Galaries Lafayette Lyon, Gothenburg in Sweden, Bologna in Italy and our first store in the Middle East, opening in Kuwait with a franchise partner this autumn. As always, we're looking at new locations and want to surprise our customers with more openings in 2012.
I was surprised to discover you do childrenswear. How closely does the aesthetic follow the adult offering?
The chidren's wear range mainly consists of men's and women's designs which are adapted to suit children. It's really a 'mini-me' collection. Obviously you have to adapt certain styles to suit children and to make them appropriate but otherwise the aesthetic of the range does tend to follow women's and menswear quite closely.
COS has a strong attachment to design, art, architecture. Was that a conscious choice from the start or did it develop as you went along?
I think originally when all the trends were crazy, we looked into a lot of architecture, art and design, as to how to create our collections. It was a way for us to give back in a way. It developed quite organically. The inspiration has always been in the background. We work with Frieze Art Fair, specifically the Frame section, which encourages younger emerging galleries and artists. From Frieze we invite young artists from different cities and give them the freedom.
You've recently been doing a tie-up with London's Clifton Nurseries? COS has green fingers too?
A lot of it is just what we like to do. Customer experience is so important to us. Design is relevant. People who come to the store should have a good shopping experience. We should stimulate the customer. Clifton Nurseries is a very private, undiscovered place. We thought, gosh, wouldn't it be nice to celebrate the launch of spring by having flowers and potted plants in the spring. We did collaborate last spring with Clifton Nurseries in our Regent Street store and the customer response was amazing. The smell, the feel, the greenery made people very happy. The Chelsea Flower show was happening too so we celebrated that in the window. We like to build up these relationships. And this was a great way of bringing nature into the city.
Who has designed your HK store on Queen's Road?
The first COS store, the concept, the colours, was William Russell. He had the original idea, and in time, the store has built from there. We have architects in our team in London for all the stores. Each and every market has a similar feeling and theme, but we try to incorporate some local feeling into the store.
COS collaborated two/three years ago with Hong Kong-born, London-based blogger Susanna Lau, aka, Susie Bubble. She did some windows for your London stores. What surprises, discoveries came out of that?
It was the first external collaboration we'd done. It was a different take. We had the idea of inviting her in and doing our windows. We were really happy with the result and it was very on-brand. It was nice to have somebody talk about our great quality yarns. It was the first time we've allowed anyone to do our windows, and show what they wanted to show. The design team we're also happy at how much effort we expend. We look at every market individually, to see how we want to talk to the customer. We also worked with other bloggers in different countries. We've done a series of events in different countries, many of them very different.
Which sort of examples would you cite?
We have worked with certain organisations, bloggers and young artists to create window displays for our stores across Europe. In 2010 the blog Selectism
http://www.selectism.com/
created an exhibit for our Berlin stores. Last year students from the Royal Academy of Art exhibited in our London stores, and the small interiors and lifestyle magazine Apartamento, created a window for our Madrid and Barcelona stores.
Are bloggers becoming more influential than conventional editors?
We do our thing. We are happy to be represented in whichever form of media, online or offline. As far as influence goes with bloggers, it's undoubtedly a more youthful influence they have. Susie and Tavi [Gevinson] dress in a way that's quite avant-garde, that experimentation stage is interesting at that age. But will online have the same relevance as print? We don't know. There will always be a case for both.
At COS, we're always looking in a COS way. We print our own magazine, pay attention to the quality of paper, tactility, different types of paper. Print media is super relevant. We love it so much we do our own version of it. Our magazine is only available in stores, it's not like you can buy it. Again, that's about inspiring the customer. There was a great interview with a lady who does voiceover for London Underground recently. The magazine showcases elements of the collection and gives some intellectual stimulatlion.
It was an unexpected coup getting Neneh Cherry in the current magazine.
We were so chuffed we got her.
Does that mean we can expect Eagle-Eye Cherry next?
Wait and see.
What's the greatest misconception about COS.
That we are based in Stockholm, because we're part of the H&M Group. Our Head Office is London. Anything to do with what you see, touch, feel at COS, comes purely from our London office. Our design team, cutting, marketing, building, architects, everything is done in-house, everything is directed through us.
How many designers?
We have 14 designers. Martin [Andersson] head of menswear, and Karen [Gustafsson] head of womenswear, between them they have 14 designers. They are very international. Based in London, we have a very international pool of talent, from places like the Royal College of Art, etc, the office is relevant from a design perspective to have such an international staff.
And how many buyers work for COS?
In the head office in London we have 16 buyers across womenswear, menswear and childrenswear.
Do people know COS in Hong Kong?
It's hard to say. Like all new markets, it's never easy. The response has been fairly positive. International travellers and fashion media know us, they have an idea. From a customer perspective, we always hope there's a level of awareness. But we're not 100 per cent sure, and it will undoubtedly be lower in this market, until the store is opened and people start to shop the product.
You're not yet in North America, and your product is not available to buy online there. Will that change anytime soon?
So far it's available electronically in countries where we've launched COS stores. As with any retail store, there's a whole series of considerations. We're still fairly young, five years old as of last month. We'd like to expand to more markets soon, but first we have to get the stores established in new markets.
Average age of COS customer versus H&M?
I think we are quite a different product. As a brand it's hard to give an age. Internally, we talk more about the individual person, somehow who is probably very aware, much more than their age. It's not about their age. We appeal to a more ageless customer. The way its worn is the difference between a mum and a daughter.
You're more subtle and more sophisticated, no?
I agree. Of course there is crossover. But that's also the modern customer, more open to going into different types of stores, particularly middle market brand as opposed to high luxury brands.
How will you keep the below-the-radar COS name sticky in Hong Kong, a city so over the radar?
We always look into new ways of communicating. It doesn't just have to be in Hong Kong. We're always trying to find new ways, in a COS way. But I'm sure we can find our way here too.
There's no Facebook, Twitter, Pinterest?
No.
I read H&M is launching a luxury brand. What can you tell me about that?
All the brands work independently. We probably know as much as you do to be honest. We read, like you did, about And Another Story, but we don't know more. We don't know where in the market place that's going to sit.