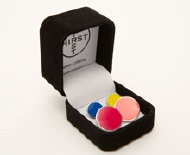 GOING AROUND IN CIRCLES
What's the point of Damien Hirst's spot paintings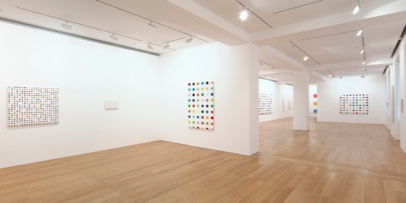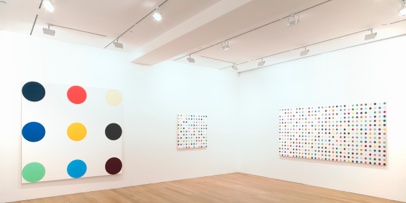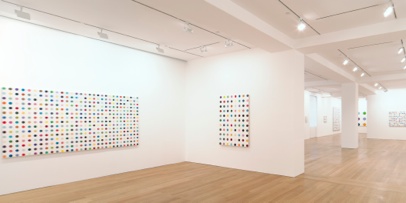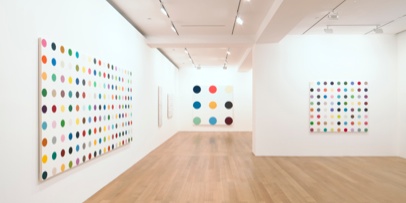 The problem with British artist Damien Hirst's Complete Spot Paintings 1986-2011 – showing on Hirst's suggestion at 11 Gagosian galleries in eight cities around the world, including Hong Kong until February 18 – is how to judge them. A single canvas in isolation can seem inventive, the same way French artist François Morellet's Bleu-Vert-Jaune-Orange must have in 1954. But assembled in the conventional space of a gallery, the viewing of 21 paintings with structured spots of differing scales, although engaging at first, soon becomes disorienting and even unsettling; the multiple spots present no obvious – or easy – focal point, and there's also the question of message – a point - or lack of it, to agitate the mind. And the longer we look, the less we see, the less we comprehend and the more unease we feel. Hirst gives us nothing.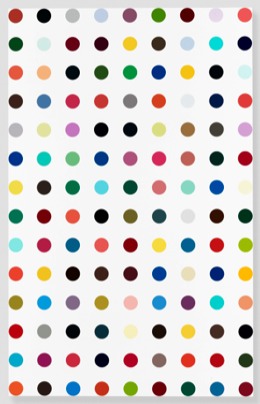 More than any artist in history – he makes Warhol's business look bashful - Hirst has redrawn the relationship between artist, gallery owner and buyers, and made money as much the subject of his work, as the paint and images he produces.
The New York Times
called Hirst a "hedge fund manager" of his own portfolio of artwork, though the pursuit of money for art by artists is nothing new. "Painting brings pleasure while you practice it, and praise, riches and endless fame when you have cultivated it well." The quote could be Hirst, but it's Leon Battista Alberti, from a 1435 treatise
On Painting
, suggesting an approach for aspiring artists. Hirst just happens to be better at the riches and fame game than any; a painter, marketer, promoter, speculator and all-round artrepreneur extraordinaire. Hirst could sell the anagrammatic shirt off his back as some glorified art statement and still find a way to make a million dollars – or twenty - from it.
It was easier to react or judge his earlier work; bisected sows, sliced cows, skulls, sharks, maggots, urine, butterflies, hydraulics and formaldehyde, all of which made Hirst the English Psycho of Britain's burgeoning art scene in the late 1980's and early 90's. Whatever the sum - or subtraction - of parts, Hirst's dead casserole of contemporary art gave us work to bite on with its shock and awe, and with it flowed equal measures of artistic and financial appreciation and a Turner Prize in 1995.
But then Hirst changed tack, prioritising brushes over blades, putting spots on canvas rather than species in containers. The sculptor-turned-installation artist-turned painter. But are the spots paintings or just compositional and chemical colour charts? Hirst's own regard for painting is dismissive: "The process of painting is meaningless and old-fashioned. Today there are better ways for artists to communicate to an audience raised on television, advertising, and information on a global level," he says. Hirst refers to the spot paintings as "a scientific approach to painting, more like sculptures of paintings than paintings themselves, " a manifestation of the "urge or the need to be a painter above and beyond the object of a painting." Seldom can an exhibition have had punters going around in circles the way these dots do.
Ultimately, the best way to engage the work is to leave artistic convention at the door and just admire the view. The spots may not be
Mona Lisa
, but they'd make creative wallpaper choices in an infant's bedroom, or the perfect floor mat for Lilliputian Twister. As possibility and provocation, and as chemical colour codes for the purpose and realization of art, they have interest, but as painting they're a blind spot; the beginning, or the end of art, a point of no return. Go around in circles at one of the galleries and take your pick.
Stephen ShortThe Complete Spot Paintings 1986-2011
, by Damien Hirst
7/F, 12 Pedder Street, Hong Kong
Damien Hirst, Famotidine, 2004-2011, Household gloss on canvas 62 x 30 inches 157.5 x 76.2 cm
Photographed by Prudence Cuming Associates
© Damien Hirst and Science Ltd. All rights reserved, DACS 2011. Courtesy Gagosian Gallery

Damien Hirst, Moxisylyte, 2008-2011, Household gloss on canvas 81 x 51 inches 205.7 x 129.5 cm, 3 inch spot
Photographed by Prudence Cuming Associates
© Damien Hirst and Science Ltd. All rights reserved, DACS 2011. Courtesy Gagosian Gallery

"Damien Hirst The Complete Spot Paintings 1986-2011" at Gagosian Gallery Hong Kong, January 12 to February 18, 2012. Photography by Martin Wong. Courtesy Gagosian Gallery.

Other images © Gagosian Gallery (
gagosian.com
)